| Overall Rating | 4.5/5.0 |
| --- | --- |
| Communication | |
| Matching System | |
| Mobile Usability | |
| Registration | |
| Support | |
| Terms And Conditions | |


Lovestruck is an award-winning dating service. It allows single professional people to meet others within close proximity to them. Lovestruck knows that online dating isn't easy and they do all they can to help you achieve success. Their clever matching algorithm and date discovery feature create a high chance of success for the users. Users may also use the integrated award winning iPhone and Android application.

Visit Lovestruck Website >>
---
Lovestruck Communication
| Overall Rating | |
| --- | --- |
| E-Mail | |
| Chat Functions | |
| Video Chat | |
When it comes to messaging, Lovestruck keeps it simple and to the point. Users are able to send each other messages to initiate contact with a potential match. Lovestruck also introduces the "wink" feature allowing you to get the attention of someone. Instant direct chat with members is not available. Video chat is also not an option at this time. The simplicity of the communication on Lovestruck is a refreshing feature to enjoy.
---
Lovestruck Matching System
| Overall Rating | |
| --- | --- |
| Personality Test | |
| Profile Matching | |
| Profile Visitors | |
| Block Users | |
Lovestruck does not use an initial personality test. Instead it allows users to get right into the action. It uses its clever matching technology to suggest potential suitable matches to you. The technology learns your behaviours and suggests matches based on this. One unique feature to Lovestruck is Date Discovery. Users can go on dates based on people who like similar activities. Users are also able to see who has viewed their profile. You may also choose to block other users should you find them not to your liking.
---
Lovestruck Search Features
| Overall Rating | |
| --- | --- |
| Picture Search | |
| Keyword Search | |
| Now-Online Search | |
| Search By Profile Criteria | |
| Show New Members | |
Users are able to search for a potential match using numerous different methods. This flexibility allows optimality when it comes to finding the right match. Users may search using the standard gallery view. Searching using keywords in profiles is possible, a function that works very well. Searches may also be narrowed down by users who are currently online. Lovestruck also allows users to be found using certain criteria found within their profile. The extensive search functions are one of Lovestruck's greatest assets.
---
Lovestruck Mobile Use
| Overall Rating | |
| --- | --- |
| Mobile Usability | |
| App Usability | |
| Android App | |
| iPhone App | |
The award winning Lovestruck mobile app makes finding a perfect match on the go simple and easy. The app is available for both iPhones and Android devices. On both devices the app is very easy to use. The app seamlessly integrates with the Online site. Lovestruck has made the app available for free to all users. Little is needed to improve the mobile user's experience.
---
Lovestruck Usability
| Overall Rating | |
| --- | --- |
| Login with Facebook | |
| Ease Of Registration | |
| Ease Of Use | |
Registration with Lovestruck takes only seconds. Users may signup using their email or Facebook account. Profile set up is also very simple, taking only a matter of minutes. Users are asked to fill details relating to their career and personal views. The site itself is very user friendly and has a small learning curve. Overall, completing a profile takes only minutes, allowing users to use the site quickly.
---
Lovestruck Popularity
| Overall Rating | |
| --- | --- |
| Facebook | |
| Male/Female Ratio | - |
| Main Age Range | 20-50 |
Lovestruck has a membership base with extensive amounts of users in each of its operating areas. This relatively new site is growing exponentially with an ever growing membership base. The user base is primarily geared towards (but not limited to) up and coming professionals. Lovestruck's primary user base resides within the United Kingdom. Expansion to Asia and America is gaining momentum with the community expanding quickly.
---
Lovestruck Support
| Overall Rating | |
| --- | --- |
| Support FAQ | |
| E-mail / Contact Form | |
| Phone | |
| Helpful Articles | |
| Forum | |
Lovestruck's support centre proves to be quite helpful for answering questions. The FAQ section contains extensive information and answers to many common questions (and by the way, its quite a funny read). Should you have any additional questions, the contact form on the site can provide assistance within 24 hours. While there are no user forums, Lovestruck provides numerous articles through its LOVElife blog. The blog contains dating tips, tricks and fun articles for your enjoyment.
---
Lovestruck Terms And Conditions
| Overall Rating | |
| --- | --- |
| Free Offer | |
| Highest Price | 39.00 GBP |
| Lowest Price | 11.00 GBP |
| Free Trial Period | 0 |
| Monthly Plan | |
Lovestruck has very reasonable terms and conditions in regards to membership. Initial membership is free. Lovestruck has two levels of paid membership. Standard or premium plans may be purchased that gives the user more customization. Both memberships provide great value for money. Membership cancellation is very simple and straightforward. A monthly payment plan is also available for purchase.
---
Lovestruck Summary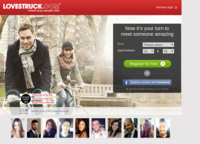 All in all, Lovestruck is a very user friendly and inviting dating service. It's simplicity and sleekness create and open and easy to use atmosphere. Its matching system and date discovery are features to be desired. The customizable search engine is fast and accurate. The mobile options are exceptional and straightforward. The user base is fairly large and constantly growing and the membership plans are very reasonably priced. Lovestruck can provide the up and coming professional with a perfect match.