| Overall Rating | 4.7/5.0 |
| --- | --- |
| Communication | |
| Matching System | |
| Mobile Usability | |
| Registration | |
| Support | |
| Terms And Conditions | |


PARSHIP is a very large and well known dating service for singles in search of a long-term relationship or marriage. Worldwide, millions of registered members use PARSHIP in their search for a dream partner. PARSHIP claims to provide a particularly successful personality test that helps in finding the best suitable partner. This promise is reiterated with a special success guarantee.

Visit PARSHIP Website >>
---
PARSHIP Communication
| Overall Rating | |
| --- | --- |
| E-Mail | |
| Chat Functions | |
| Video Chat | |
PARSHIP provides good possibilities for communication between users. A comprehensive e-mail function allows easy exchange with other members. There is no possibility to chat. A video chat is provided. Overall, the possibilities for communication at PARSHIP are good.
---
PARSHIP Matching System
| Overall Rating | |
| --- | --- |
| Personality Test | |
| Profile Matching | |
| Profile Visitors | |
| Block Users | |
The system for profile matching on PARSHIP is excellent in our eyes. There is a very comprehensive and well-thought-out personality test. Based on the test PARSHIP very accurately suggests suitable partner profiles. With a premium membership, you can see who has visited your profile page. You have the ability to block unwanted members from contacting you. In total, the system for profile matching at PARSHIP is very effective and good.
---
PARSHIP Search Features
| Overall Rating | |
| --- | --- |
| Picture Search | |
| Keyword Search | |
| Now-Online Search | |
| Search By Profile Criteria | |
| Show New Members | |
The possibilities for actively searching are also good at PARSHIP. A search on the basis of profile photos is only partly possible for reasons of privacy. You cannot perform a keyword based search on other members' profiles. It is possible to view the profiles of other members that are currently online. A dedicated search for certain profile criteria is possible. You can find newly registered members by filtering. Altogether the search functions of PARSHIP offer everything you need for a successful active search for suitable partner profiles.
---
PARSHIP Mobile Use
| Overall Rating | |
| --- | --- |
| Mobile Usability | |
| App Usability | |
| Android App | |
| iPhone App | |
PARSHIP is very good in its mobile usability. The mobile website version is very clear and thus easy to use. The PARSHIP mobile apps are excellent in their usability. There is an Android app by PARSHIP. It is also possible to use PARSHIP with an iPhone app. All in all, it is a great pleasure to use PARSHIP on a mobile device.
---
PARSHIP Usability
| Overall Rating | |
| --- | --- |
| Login with Facebook | |
| Ease Of Registration | |
| Ease Of Use | |
In terms of usability, PARSHIP receives a high score from us. The first-time registration is easy to perform, and you know at every step what to do next. It takes a while until all personality test questions have been answered. The user interface of PARSHIP is very good and clearly designed. Overall, PARSHIP is very good and easy to use.
---
PARSHIP Popularity
| Overall Rating | |
| --- | --- |
| Facebook | |
| Male/Female Ratio | 49/51 |
| Main Age Range | 25-50plus |
PARSHIP is very popular and gets a high score in this category. With several million registered members, PARSHIP is one of the largest online dating services for long-term relationships in Europe. The ratio of men to women is very well balanced. Concerning the age range of the members PARSHIP is in midfield. Altogether PARSHIP provides a very popular online dating service.
---
PARSHIP Support
| Overall Rating | |
| --- | --- |
| Support FAQ | |
| E-mail / Contact Form | |
| Phone | |
| Helpful Articles | |
| Forum | |
PARSHIP provides everything you need in terms of support. A comprehensive and good FAQ answers the most important questions. A personal support via e-mail or contact form can be used if necessary. Phone support does not seem to be available. PARSHIP provides many helpful articles on the subject of dating. A user forum is not available. In summary, PARSHIP receives a high score concerning its support.
---
PARSHIP Terms And Conditions
| Overall Rating | |
| --- | --- |
| Free Offer | |
| Highest Price | 19.00 GBP |
| Lowest Price | 10.00 GBP |
| Free Trial Period | 0 |
| Monthly Plan | |
Concerning prices and terms, PARSHIP is fair and transparent. There is the possibility of a permanently free membership with limited features. PARSHIP is not cheap in comparison, but with it's high quality and comprehensive services, it is a very good offer.
---
PARSHIP Summary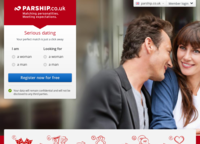 All in all, PARSHIP is a very good choice for singles in search of a long-term relationship or marriage. The possibility for communication with other members is neat. The profile matching system is very sophisticated and effective. PARSHIP offers everything you really need for a successful profile search. The mobile use of PARSHIP is fun and easy. In terms of registration and usability PARSHIP leaves nothing to be desired. The service is highly popular. The support provides answers to all important questions in different ways. PARSHIP is not cheap, but due to the huge scope of services it's worth the money. Overall, PARSHIP is one of our true recommendations if you are in search of a long-term partner.