| Overall Rating | 4.8/5.0 |
| --- | --- |
| Communication | |
| Matching System | |
| Mobile Usability | |
| Registration | |
| Support | |
| Terms And Conditions | |


POF is one of the biggest dating websites worldwide. It claims to have more dates, more relationships and more website visits than any other dating site. POF is addressing all kinds of singles. The site was founded in 2003 in Canada. Having started as a completely free website, POF offers a free membership with many features as well as a paid premium membership with additional benefits.

Visit POF Website >>
---
POF Communication
| Overall Rating | |
| --- | --- |
| E-Mail | |
| Chat Functions | |
| Video Chat | |
POF offers very good possibilities to communicate with other members. The main channel of communication is an internal e-mail messaging system. Live-chats with other users are also possible. There is no video chat functionality present. Altogether, POF makes it fun and easy to get in contact with other singles.
---
POF Matching System
| Overall Rating | |
| --- | --- |
| Personality Test | |
| Profile Matching | |
| Profile Visitors | |
| Block Users | |
The profile matching system on POF is favorable. The site does not offer a detailed personality test. There is the possibility to enter a lot of specific profile criteria which enables a good matching of suitable member profiles. You can see which other users have visited your profile page. You can block specific users from seeking further contact. All in all, POF offers a neat and solid system for profile matching.
---
POF Search Features
| Overall Rating | |
| --- | --- |
| Picture Search | |
| Keyword Search | |
| Now-Online Search | |
| Search By Profile Criteria | |
| Show New Members | |
The search functionality on POF is very appealing. It is possible to browse the profile pictures of other members. A search for specific keywords in member profiles is not possible, however. You can see which other users are online right now. Searching for suitable members by profile criteria is easy and fun on POF. A dedicated search for new members is possible. Altogether, we are very pleased with the search functionality offered by POF.
---
POF Mobile Use
| Overall Rating | |
| --- | --- |
| Mobile Usability | |
| App Usability | |
| Android App | |
| iPhone App | |
Using POF on mobile devices is fun and easy. The mobile version of the POF website is very good. The apps leave nothing to be desired in terms of usability. There is a mobile app for Android devices. An app for the iPhone is available, too. In total, POF leaves a very good impression concerning mobile usage.
---
POF Usability
| Overall Rating | |
| --- | --- |
| Login with Facebook | |
| Ease Of Registration | |
| Ease Of Use | |
Registering on POF is easy and using the site is fun. The registration process is simple and straightforward. You can register very fast, even though registration takes some time if you fill out all profile criteria questions. The POF site is good in its usability. All in all, POF is a good pick concerning registration and ease of use.
---
POF Popularity
| Overall Rating | |
| --- | --- |
| Facebook | |
| Male/Female Ratio | 51/49 |
| Main Age Range | 20-50plus |
POF is a highly popular dating site. Millions of members are using POF worldwide. The ratio between male and female members is evenly distributed. Every month a significant number of millions of people use POF. The age range of members is very broad so that suitable partners of all ages can be found. Briefly speaking, POF is very popular.
---
POF Support
| Overall Rating | |
| --- | --- |
| Support FAQ | |
| E-mail / Contact Form | |
| Phone | |
| Helpful Articles | |
| Forum | |
POF offers an appealing customer support. A support FAQ answers the most frequently asked questions. The support team can be contacted by e-mail. Even a phone support is available. Relevant articles on dating topics are missing on POF. There is a user forum. At large, the POF support is exemplary.
---
POF Terms And Conditions
| Overall Rating | |
| --- | --- |
| Free Offer | |
| Highest Price | 19.00 USD |
| Lowest Price | 10.00 USD |
| Free Trial Period | 0 |
| Monthly Plan | |
POF offers fair terms and is decent in it's pricing. An unlimited free membership with many features is available. A premium membership with additional features can be purchased at a fair price. There is no paid plan on a monthly base available at the time of our test. Altogether, POF is fair and reasonable with it's terms and pricing.
---
POF Summary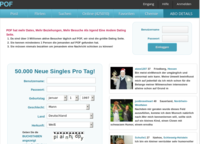 POF is a great choice for singles of all ages. The possibilities to communicate with other members are excellent. The system for profile matching is favorable. You can perform very specific searches on POF in order to find suitable profiles. In terms of mobile usability, POF is a very good candidate. Registering is easy, and the site is fun to use. POF is one of the most popular dating sites in the world. Customer support is exemplary. The terms and fees are fair and reasonable. All in all, POF is one of our favourite dating sites.